I GREW UP IN THE CHICAGO AREA
eating thin-crust, square-cut, Midwestern pizza, equipped to handle more toppings than seems physically possible. Personally, my favorite pieces are the corner slices, which sounds counterintuitive -- how can a circular pizza have a corner? They're the lone four edge pieces shaped like miniature wedges, the crunchier the better.
Now I'm a pizzamaker at Paulie Gee's Logan Square, a Chicago pizza joint that originated in Brooklyn. We specialize in two styles: playful, Neapolitan-style woodfired pizza with non-traditional toppings, and Detroit-style pan pizza. Note that neither of those is related to my hometown. Outsiders still seem to think that all Chicagoans eat is deep-dish; in response, natives insist that all we truly eat are tavern-cut thin square slices. But that's never been the whole story.
What actually defines pizza in Chicago? Topping-wise, we still stubbornly love meat. We're mainly a pork-based Italian sausage town -- sure, there's pepperoni on every menu, but Chicagoans veer toward sausage heavily dosed with fennel seed, garlic, and pepper. It's always in large juicy misshapen chunks, not crumbled finely, or encased and sliced into coins, like you typically see in New York.
Of course, there's deep-dish. We don't eat a ridiculous amount of it. If anything, if you're in from out of town, we want to show you that one thing you can't get at home. (That's called being a good host.) I still love it, though I don't eat it often. When I do, it's a reminder that damn, that much melted cheese is inherently delicious.
So let's talk. Chicago will always have the classics, but with an armada of pizzerias obsessing over the quality of their dough, and new styles constantly being introduced, there's way more to Chicago than the deep-dish/tavern style binary.
In recognition of that too-often-ignored fact, we offer you the best pizza places in Chicago -- of every style.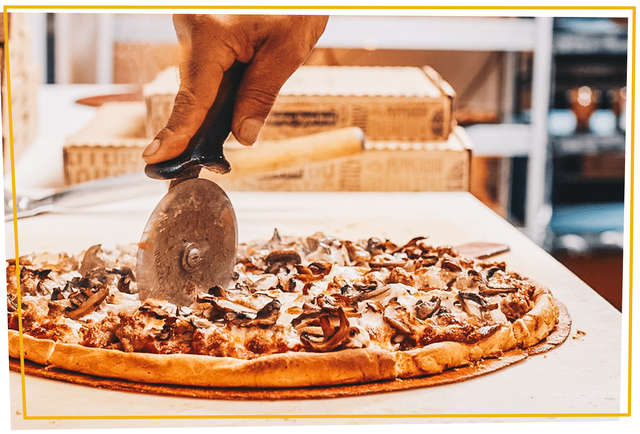 Tavern style, along with deep dish, is Chicago's hometown classic. Most people just call it thin crust, and it's exactly what it sounds like: a thin-crust (like, cracker-thin), often circular pizza cut into squares, not wedges.
Est. 1939 | Ashburn
The cash-only Chicago classic for thin crust
If I didn't mention Vito and Nick's on this list I'd be strangled, which is why it's the very first entry. The pies at this cash-only Southside favorite are generously topped all the way to the edge, and if an Italian beef-draped thin-crust pizza doesn't scream Chicago, I don't know what does. By the time you've finished your meal, you'll be leaving with a Chicago accent.
Est. 1950 | Lincoln Park
The best sausage on the thinnest slice you'll ever try
If you want to feel Chicago's love for sausage for yourself, you've got to visit Pat's Pizza and taste the hand-pinched gumball-sized meats covering one of their microscopically thin slices. When I say hand-pinched, I mean that the sausage is applied raw and cooks in the oven, so as it bakes, the flavor seeps into the entire pizza.
Est. 1940 | Albany Park
A pizza time machine... and a liquor store
A cursory glance at Marie's storefront will tell you it's a classic. It's been around since the 1940s and hasn't changed a bit. This is textbook tavern-style pizza, thin and hearty. But the restaurant's spirit is just as engaging: red vinyl seats, live music, and an entire liquor store attached to the restaurant. Yes, you can bring the booze to your table.
Est. 1947 | Various Chicagoland Locations
It's not delivery, it's Home Run Inn
You're not allowed to argue with me on this one: Home Run Inn is the best frozen pizza ever (Thrillist's
frozen pizza ranking
attests to it). People laugh at me when I say I still eat frozen pizza since I'm a pizzamaker, but I can't get enough. It's on this list because if you're not from Chicago, this is one of the few things in your local freezer aisle that you can experience along with us. Obviously it's much better fresh at one of the eight locations in Chicago, but even from your oven, there's something about that damn buttery crumbly crust that keeps everyone coming back for more.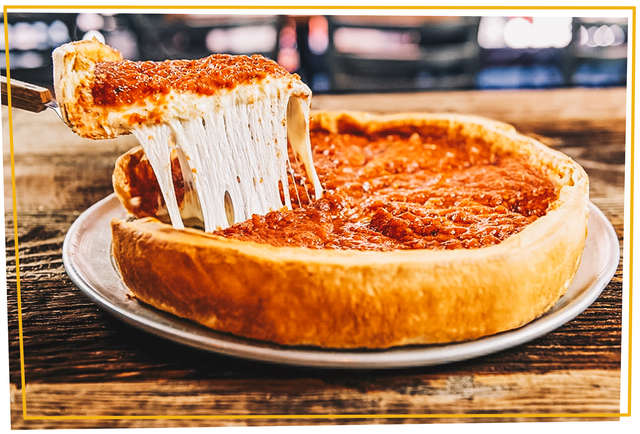 Yes, that deep-dish. A round, high-walled fortress of cheese and dough with sauce on top, this pie is both eternally revered and endlessly teased. It's a Chicago culinary legend, rivaled only by Italian beef and Chicago-style hot dogs.
Est. 1971 | Bucktown
Tiny place, huge pies
If you're looking for a deep-dish pizza that will convert you to the cause, head to My Pi in Bucktown. The deep-dish here is textbook: crisp crust, a generous amount (but not too much) cheese, and crushed but nearly whole tomatoes. There's only a tiny counter with stools up front, so be prepared to be a little squished if you eat in (highly recommended).
Est. 2015 | Streeterville
The newest belle of the deep-dish ball
Labriola's deep-dish is one of those pizzas that holds an impossible amount of toppings. Similar to a Detroit-style pan pizza, there's a halo of what appears to be burnt cheese (it's not burnt, it's caramelized) around the edges. It's also one of the very few restaurants just off of Michigan Avenue worth visiting, and its dimly lit space is enough to soothe you after a day walking in a crowd.
Est. 1974 | Various Chicagoland Locations
What you see when you picture deep-dish
I've been slammed before for my inclusion of Giordano's in my personal favorites list, but this chain has been a part of my life since I was a kid. It's best known for its stuffed pizza, a variant of deep dish that includes a very thin layer of dough on top of the cheese -- which is then covered in sauce. These slices are what most people picture when they think of deep-dish, packed with pounds (yes, pounds) of cheese. When you lift that first slice out of the pan, it'll stretch so far you can stand up on your chair to test how far it'll go before breaking. As amazing as pizza is, you don't often see it described as entertaining. This pizza is entertaining.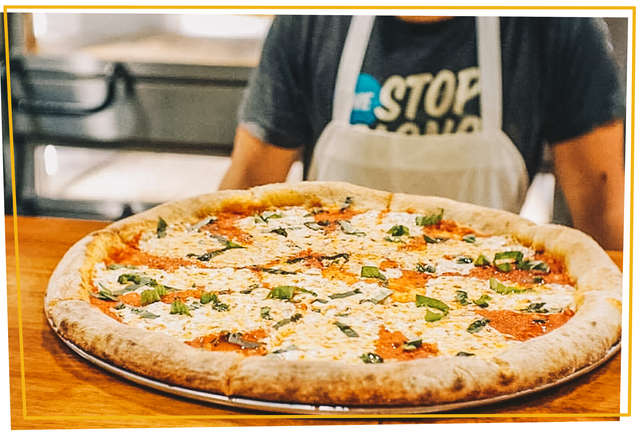 You're familiar with this one. There aren't many slice shops here, but the ones we have are well-loved and worth your time.
Est. 2011 | Lincoln Square
True NYC slices in Chicago
Jimmy's Pizza Cafe is Chicago's true-to-form New York slice joint. Your slice will be handed to you on a paper plate, it folds, it's blazing hot (seriously, I've burned my mouth on it), and each bite keeps you chasing the next one. We may not have a slice shop on every block, but Jimmy's holds its own with the real deal.
Est. 2016 | Bucktown
Retro vibes and bountiful toppings
The StopAlong is a throwback love letter to the '80s -- think action figures on brightly colored walls and an arcade in the back. The bulk of the menu is New York-style pizza, but with a wider array of toppings than a utility slice joint. There's the Major Payne, which has spicy sauce, pepperoni, jalapenos, garlic, and fresh cilantro, and my personal favorite, the Spaceballs, which is topped with a vodka cream sauce pie with meatballs, ricotta, and basil.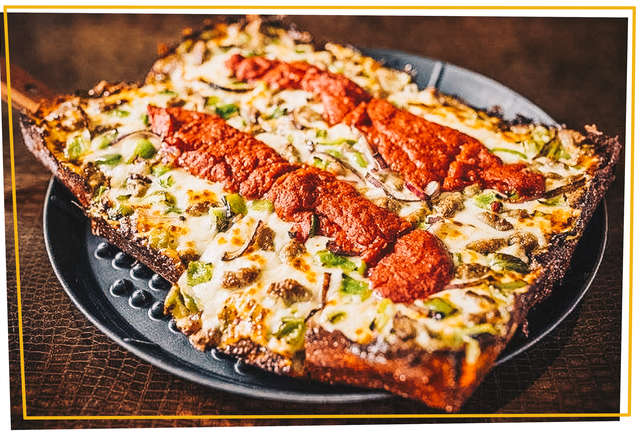 Detroit style is quietly spreading across America. It's a thick, focaccia-esque pizza baked in a steel pan lined with cheese along the edges. Once baked, those edges crisp up and caramelize, resulting in a square pie of widely varying textures.
Est. 2016 | Logan Square
Neapolitan style and Detroit style, via Brooklyn
Paulie Gee's Logan Square (Full disclosure: As mentioned above, I work full time at Paulie Gee's as a pizzamaker) is an offshoot of the original Paulie Gee's in Greenpoint, Brooklyn. While the menu is mainly comprised of Neapolitan-style woodfired pies, we also feature rectangular Detroit-style pizza, which we dub Logan Squares, lined with a signature white cheddar crispy crust that makes the edges crisp, tart, and crunchy, topped with a cold tomato sauce for that contrast of hot and cold. Of course I'm biased; I make these pizzas. But I've been at Paulie's for over three years now and I never tire of it.
Est. 2017 | Andersonville
Square pies with unique toppings, plus a pizza buffet
Fat Chris's is a fairly new restaurant (as of 2017) featuring puffy caramelized-cheese square pies with a thick stripe of tomato sauce across the top. While there are some classic topping combinations, Fat Chris's also features some unique varieties, like buffalo chicken and barbecue brisket. Unlike every other restaurant on this list, at lunch they have a pizza buffet.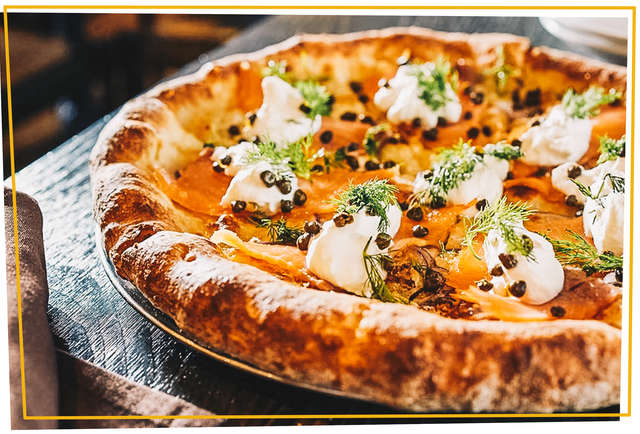 The one category that's seriously picking up steam in Chicago is artisanal pizza, pizza nouveau that defies tradition and creates its own amorphous category. What sets these pies apart is a hyperfixation on dough and baking techniques.
Est. 2016 | Streeterville
Robert's is back and better than ever
Robert's recently reopened in Streeterville downtown, and their outer crust (yes, cornicione, for you pizza nerds) is as puffy as a motorcycle tire. One look at its crackly and chewy cross section and you'll see a beautiful bubbly structure hiding within. It's really an architectural bread marvel to behold. While the old space was relatively small, the new space is much larger and on the Chicago riverfront.
Est. 2019 | Pilsen
Defiantly unconventional pies with beer-based dough
When you sub out water for beer in your pizza dough recipe, you know why you're in the artisan category. That, and if one of your specialties is a pickle and mortadella pizza. Yes, you read that correctly. Bob's Pizza, a newcomer in Pilsen as of this year, deliberately bucks expectations, including the cheese blend, which here includes Swiss cheese.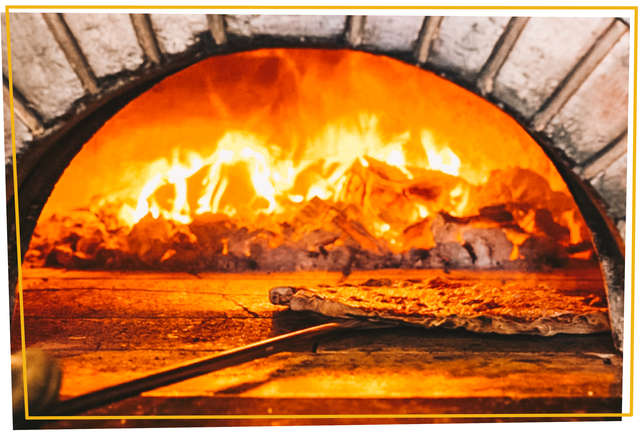 Est. 2007 | West Town
Chicago's original coal-fired pizza
True to its name, Coalfire's pizzas come from a coal-burning oven at a seemingly impossible ambient temperature of up to 1,500 degrees, which is why you'll often see people describing the pizza as "forged." If you're going to try to put a finger on what style it is, you can't. It's almost a blend of New Haven, New York, and Neapolitan all in one go, so imagine a thin sturdy charred dough with good chew. I'm a big fan of the cooling effect of whipped ricotta on pizza, and you can't go wrong with any of those pies. There are two locations -- if you're in town for a Cubs game, head to the one on Southport's.
Est. 2019 | Logan Square
Unique whole-grain dough at a beloved brewpub
Middle Brow Bungalow is a brewpub, so you're already on the right track. After all, these folks know how to handle yeast. One bite and you'll notice (if you're paying attention and not scarfing it down), the texture from the whole grain wheat in the dough. Once you get to the crust, you'll find sourdough-like tanginess to it. We're talking about finely crafted bread here, folks, and if you can't get enough, there are loaves to-go.
Est. 2017 | Lincoln Park
Mix & match artisan half-and-half pies
Like the other pizzas in this section, Pizzeria Bebu's style makes it hard to define. It starts with a chewy crispy crust that's crackly at the bottom and sturdy enough to hold more toppings than you'd think. If you're a fan of clams on pizza, the White Squall's topped with clams, bacon, and Crystal hot sauce. If you're more of a red-sauce person, don't worry about having to fight over toppings, since, unlike many of these pizzerias, you can order half-and-half of whatever you prefer. As a pizzamaker, the idea of making half-and-halfs stresses me out, but as a diner, it's the perfect opportunity to try more pies.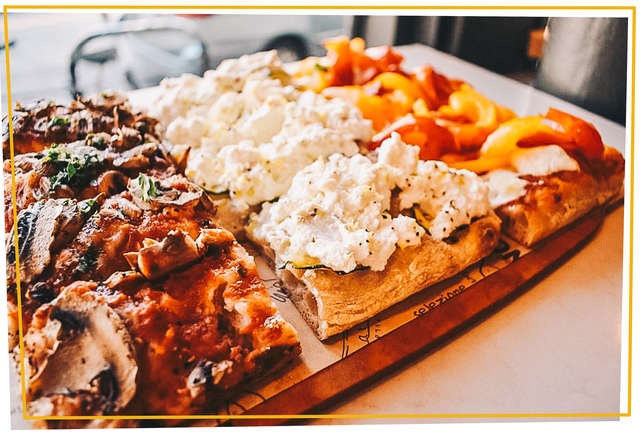 Certain pizza styles can only be had at a few spots around town. Some are strange; others are just gaining national momentum; all are worth trying.
Est. 2001 | Wicker Park
Your chance to try New Haven-style pizza
Piece Pizza is the only place in Chicago to get the chewy, flat, oblong, often ugly-looking pizza known as New Haven style. You can get it with red sauce and a sprinkling of Parmesan -- no mozzarella -- or if you're so inclined, recreate the classic New Haven white clam pie by picking out your own toppings. Piece Pizza also hosts one of the last vestiges of legendary Hot Doug's: the Hot Doug's Atomic Pizza (pepper jack cheese, caramelized onions, and Hot Doug's spicy sausage).
Est. 2012 | Various Chicagoland Locations
The only spot in Chicago for Quad Cities-style pies
This is a hyper-regional style from the Quad Cities, a region split between Iowa and Illinois. The crust is malted and sweet, the sauce is slightly spicy, and the pies are cut into strips. Honestly, it might challenge your conception of pizza. Roots is its only purveyor in Chicago, and if you order a pie with sausage, you'll find it's finely crumbled, not in big pieces. The taco pizza, which is topped with the ingredients you'd normally associate with a hard-shell kit (seasoned tortilla chips, taco sauce packets, and all), is a specialty of the Quad Cities that really, you can't get anywhere else in the city.
Est. 2003 | Various Chicagoland Locations
Pizza al taglio: scissor-cut slices straight from Rome
Another style that's quickly gaining popularity, Pizza al taglio (which translates from Italian to "by the cut") is a Roman style known primarily for its ultra-bubbly airy crust and sheer variety of toppings. Chicago is the first place Bonci landed in the United States. All the pizza is laid out in a display, and you simply point at which you'd like. It's then cut by scissors, and you're charged by weight. Bonci's crust is very light and fluffy like focaccia, and the toppings change every day (sometimes every hour). Go with your gut when you're peeking into the glass, but don't overlook variations with potato or 'nduja, which is silky, spreadable sausage.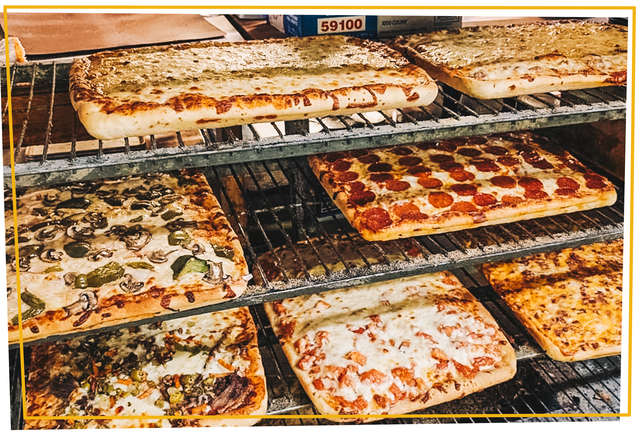 Sicilian-style pizza comes in thick, square slices. It's like a focaccia bread topped with tomato sauce, and it's surprisingly hard to find in Chicago.
Est. 1970 | West Town
Pan pizza from some of the best bread-bakers in town
Out of the more traditional styles of pizza, Sicilian is a bit of a sleeper in Chicago. But at D'Amato's, a bakery in West Town, you can find it in the wild. They call it pan pizza, and it's served at room temperature (heated upon request). You'll see it nestled in the display cases in this little gem -- and when I say little, I mean there's zero seating.
Est. 1968 | Portage Park
Come for the cannoli, stay for a puffy cheese slice
Walk into Sicilia Bakery and you'll see a wide variety of baked goods beneath a glass display, and a big section dedicated to sandwiches made to order. But if you look past the cookies and cannoli, you'll see puffy Sicilian slices tucked between the sweets. You can't go wrong with a classic cheese slice here (and seriously, bring home a few cannoli).

The granddaddy of all pizza, Neapolitan -- in all its soft, blistered, wood-fired glory -- has a fair representation in Chicago. We've got a handful of VPN certified pizzerias that follow the tradition of Naples and have the paperwork to prove it.
Est. 2006 | Ravenswood
Textbook Neapolitan: blistered, charred, and soft
When you're looking for some authentic Neapolitan-style pizza, VPN-certified Spacca Napoli is the first name you'll hear. Pizzamaker Jonathan Goldsmith radiates passion when it comes to his love for pizza and cooking -- talk to him for a few minutes and you'll feel the same way. Spacca Napoli doesn't stray from tradition and sticks to classic woodfired pizza dough, bready and pliant with a charred crust, San Marzano tomatoes, and imported buffalo mozzarella.
Est. 2016 | Lakeview
Southern Italy meets Chicago
Another of the VPN-certified pizzerias in Chicago, Coda di Volpe aims for the authentic version of Neapolitan wood-fired pizza in the Southport Corridor section of Lakeview. You know how serious it is when you're given shears to slice your pizza up, and it's even more serious when the pizzas are cooked in a handmade Stefano Ferrara oven, which are legendary in the woodfired pizza world.