NEW YORK'S COMEDY SCENE IS A SERIOUS BUSINESS.
The city has served as the backdrop for classic
rom-coms
, iconic sitcoms, and, of course one little
late-night variety show
that's been prattling on since 1975, launching some of the biggest names in the biz along the way. Across clubs, bars, DIY spaces, and some truly unexpected venues, this town serves as the nation's premier stage for
superstars
and fledgeling funny folks alike.
"New York [has] the best comedy scene in the world, definitely," says
Gina Yashere
, a British ex-pat who made a name for herself on New York's many stages before co-creating the CBS sitcom Bob Hearts Abishola. "People come to New York to become comedians, people love the art of standup and work hard on making their standup great. People pride themselves on the quality of their standup."
Like a night of live
theatre
, catching a stand-up routine, improv show, or even an open mic night suffuses us all with a deeper connection to these five disparate boroughs that make up one inimitable whole. Sure, there are universal truths and tropes that comedians revisit again and again, regardless of location. But see a show in New York, and you'll giggle at bits that just wouldn't play in Peoria. Take the
subway
, please. Whether you're the tourist swiping your MetroCard 87 times in a heroic effort to take the L train, or the beleaguered local waiting in line behind him, a tight ten about the highs, lows, woes and whoas of the MTA are boundlessly relatable.
Actually finding good live comedy, however, can feel intimidating. Hawkers on MacDougal Street and 8th Avenue or, worse yet, Times Square, may try to rope you into a mediocre lineup with a hefty drink minimum, and some sets can really flop. To separate the side-splitting shows from the total snoozers, we asked working New York City comedians to fill us in on where you're guaranteed a cackle right here in the Big Apple.
More:
The Best Shows You Can See on Broadway Right Now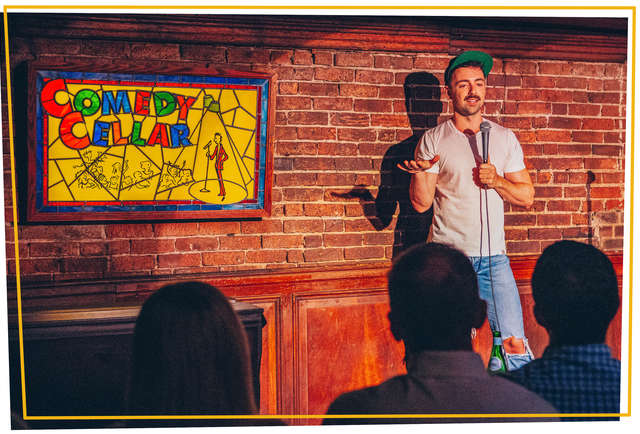 West Village
"I love Comedy Cellar because it's the best of the best, one of the best clubs in the world," Yashere says, pausing to see if she can think of a better club (she can't). "You get the best comedians, and the Cellar attracts a really huge, eclectic audience from all over the world, because of the fame of the club, so it's great to test out material, on not just New Yorkers." On any given night people from the Midwest, New Zealand or Norway may fill the house, having recognized the Cellar from the various TV shows and comedy specials that have filmed in and outside of it. Yashere also notes that it's "not easy" to get on stage here, you need a certain level of experience, meaning viewers can always expect a polished, professional level of comedy.

More: The Best Places to Eat in Greenwich Village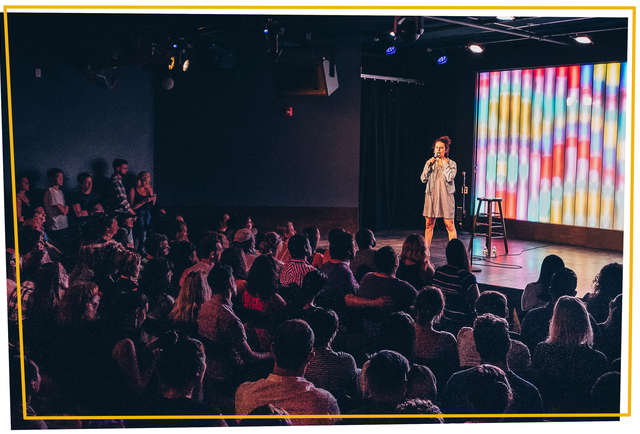 Gowanus
Even after changing location, this Brooklyn performance space is as popular as ever. "The new Littlefield looks exactly like the old one; it's like a guy who divorces his wife saying, 'I need someone new,' and then marries someone who looks identical to his ex," says Late Night Whenever host and actor Michelle Buteau. "It's très cute." Buteau recommends seeing the weekly and monthly shows, which all offer a different vibe, as well as the chance to see "cool drop-ins" like Jim Gaffigan and "the Broad City bitches."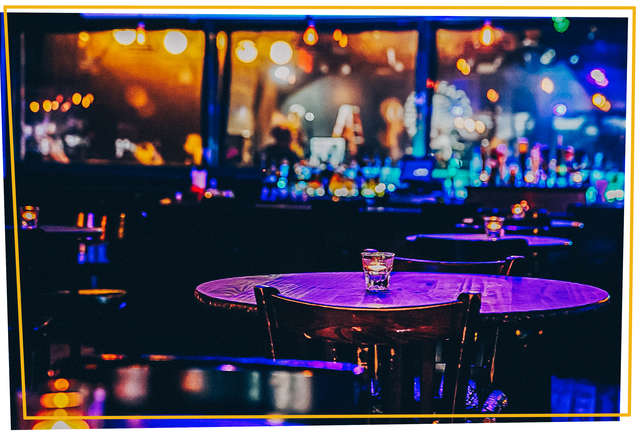 Williamsburg
Hannibal Buress founded Comedy at the Knitting Factory in 2008, "before he got hella famous," Buteau says. These days, the Sunday night gig is an established favorite on the NYC circuit, and has hosted the likes of Chris Rock and Dave Chappelle. Buteau says the big names make it feel "more like LA than NYC," but no matter how long they've been in the game, comics get a flat 15 minutes on the mic.

More:
The Best Dive Bars in Brooklyn
Lower East Side
The burlesque vibe of the underground theater (below
Pizza Beach
) makes Buteau feel like "Liza Minnelli might slip onto stage at any moment." An avant-garde thread runs through its programming, including classic stand-up performances, one-person shows, and Friday's Slipper Room Show, which combines burlesque, circus, magic and adult humor.

More: The Definitive Lower East Side Dining Guide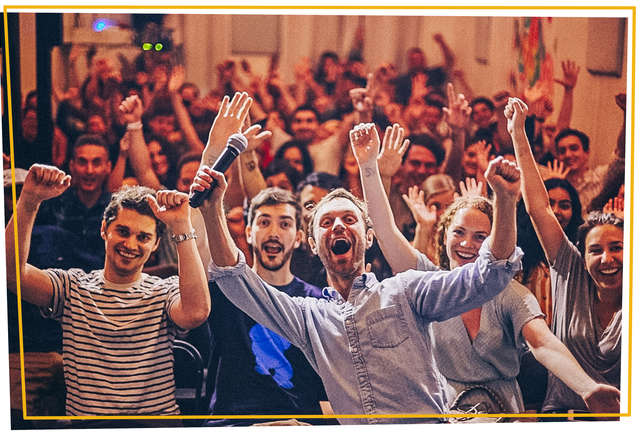 East Village
"I hope that I'm not spilling any beans here, but I hate to keep this a secret because this venue is intimate, unusual, and always super fun," comic
Selena Coppock
(who, among many credits, runs the very amusing parody
NYT Vows Twitter account
) says. "They mount a bunch of solid standup shows, most with free pizza, plus have assorted burlesque, aerialists, DJs, and more. The producer, owner, genius behind all of it is Alex Neuhausen, and he has created such a low-key, welcoming, super cool spot where everyone feels like they're in for a very special night."

More:
The Definitive East Village Dining Guide
Williamsburg
Coppock is also very into Horseplay, a weekly show on Monday nights. "It has blossomed into one of the hottest standup shows in Brooklyn," she says. Run by local comedian Khalil Walker, who is "so great at gathering a team to help him create, promote, and execute," tickets are
free with online RSVP
. Food (homemade Doritos!) and legit cocktails ($15, but beer cans start at $5) are served all night. Coppock recommends grabbing dinner at a booth in the backroom, so you can be comfy for the show.

More:
The Ultimate Guide to Eating in Williamsburg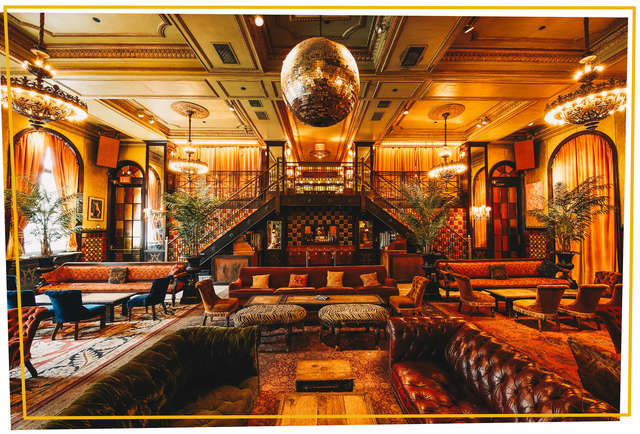 West Village
This is a "cool space where you wouldn't expect to see comedy," says
Jo Firestone
, who you may have seen on The Tonight Show and High Maintenance. Expect a "very attractive crowd," thanks to its proximity to scene-y restaurants and clubs. "Go for the laughs, stay for the audience full of hot people," Firestone says. Currently in residence:
Dad
, a monthly celebration of dad jokes and more featuring a diverse lineup (not just dads!) and a live DJ.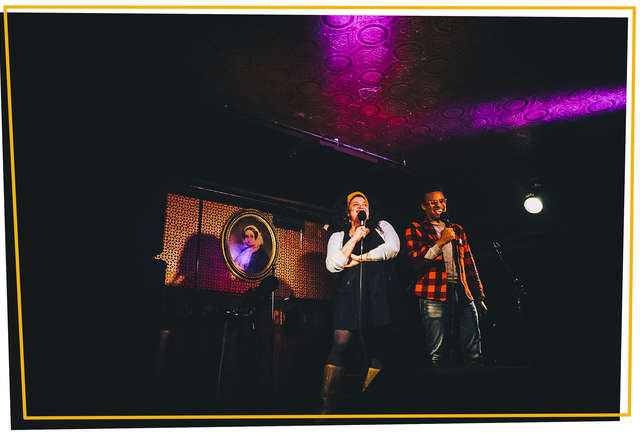 Park Slope
Not to be confused with Williamsburg hookup destination Union Pool, Buteau recommends this Brooklyn hangout for "weird, crazy, one-off shows." The basement, which "feels like a speakeasy," is where she recorded her album: "Because the room is small, it always feels crowded -- a good thing for comedy -- and the vibe is different every time," Buteau says. She also loves that lineups here often include multiple women, even when the shows aren't labeled specifically as women's shows.

More:
The Best Bars for Single Mingling in NYC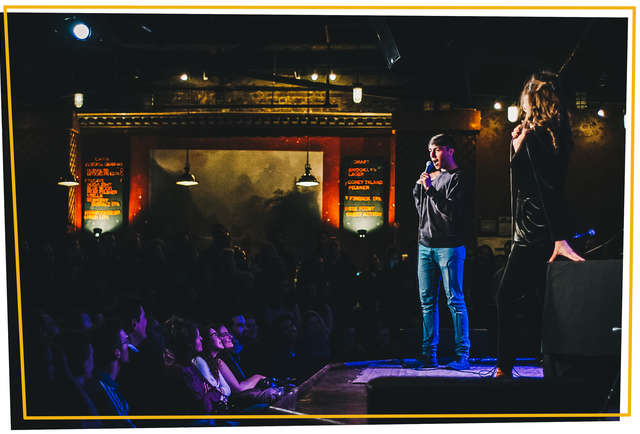 Gowanus
Buteau says to think of The Bell House as a "bigger, more fun" version of Union Hall. Two stages host comedy, music, and alternative entertainment -- and there's no drink minimum. "I mean, I'm always going to have lots of drinks," Buteau says. "But I appreciate that you're not forcing me."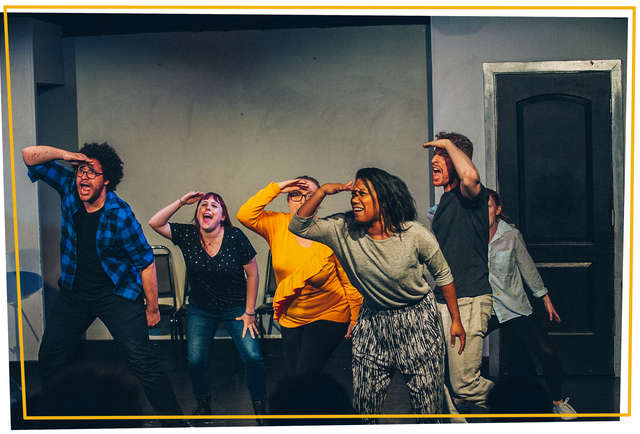 Chelsea
Comedian
Lesley Hennen
says she's "obsessed" with this venue: "They have really great shows seven nights a week and on Tuesdays and Wednesdays you can see house teams compete in four back-to-back hours of improv, for just $7." Think you can do better? Enroll in the Magnet's free one-hour
introduction to improv class
and then take advantage of some of their participatory shows, where brave newbies can get on stage to show off their comedy chops.

More:
NYC Classes You Can Take in One Day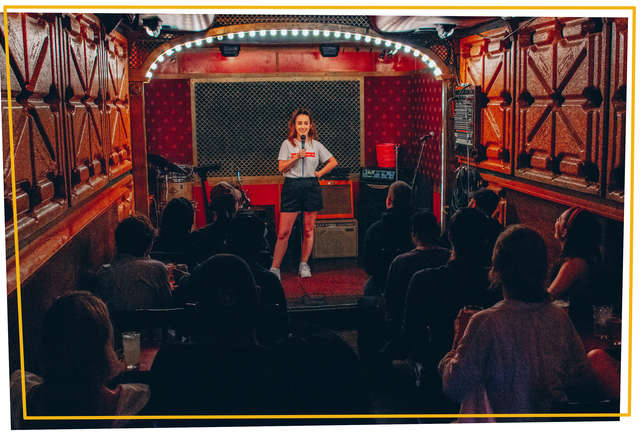 Williamsburg
Hennen recommends this hipster bar-slash-performance venue popular with comics. In particular, she's a fan of
Ghost Town Comedy
, hosted by
Savannah DesOrmeaux
(New York Comedy Festival, American Horror Story), a free monthly stand up show about life, dating and being ghosted. "Every month one comedian gets pulled from the line up to dish about a time they were ghosted or became a ghost themself," Hennen says. "This show is always inclusive and diverse as hell, boasting zero straight, white men on every consecutive line up!"

More:
The Best Date Ideas for Fall in NYC
Long Island City
A Cal-Mex menu and $6 beers, plus pinball, add to the allure of this Queens mainstay. Coppock recommends the $5 monthly show Jackknife Comedy and the weekly NYC Talent Show, "that is really open, experimental, funky." Previous performers include big names like Kristen Schaal, Hannibal Buress and Jim Gaffigan. NYC Talent show admission is free (though a donation of $5 is suggested) and the quirky performances help ease you into Monday morning with plenty of laughs.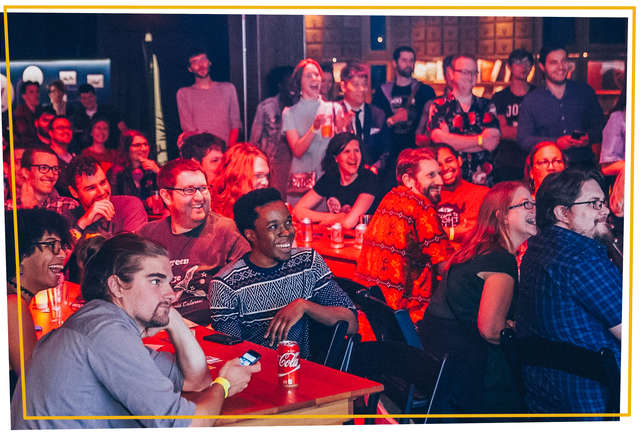 Lower East Side
If traditional joke telling doesn't always do it for you, check out this downtown theater that Hennen looks to for "smart comedy shows." Expect storytelling, stand-up, sketch, and improv routines. "Caveat's programming is so unique, imaginative, and smart," Coppock echoes. "It's not just an onslaught of standard standup -- they have an assortment of fascinating, often educational, themed shows that are equal parts hilarious and edifying. It's a gorgeous space and the staff is top-notch." Her favorite show right now is Wednesday's Lasers In the Jungle, a long-running standup and variety show hosted by comics Katina Corrao, Sean Crespo, and Matt Little. Most shows are exclusively twenty-one and up, and tickets are typically $10 (or free!).
Midtown & East Village
In the city so nice they named it twice (sorry), two comedy clubs bear the same name. And comedian Jess Salomon, who performs a duo act with her wife, Eman El-Husseini, loves both New York Comedy Club locations. "The audiences are up for hearing a variety of perspectives and styles of comedy," she says "You don't always see that at clubs." She attributes that to the way the lineups are booked. "You don't have, for example, [a lineup with] a bunch of one kind of male comic and then, a woman! If you're that woman you can feel a shift in the room, like a disappointed shift," she says. Salomon also says that the club operators care about comics' careers and work to help them shine, which is also great for audiences looking to spot the next big comedy stars.
West Village
Appearing with El-Husseini as The El-Salomons, Salomon has hosted a few shows here, and the pair agrees that the space is "just made for comedy." The Duplexes nearly seventy years as a performance venue have made it "a well oiled machine... and that's not a reference to how sexy and gay it is," Salomon says. "I love that when the show is done and we all spill out into the bar to drink there's always a drag queen walking around singing and roasting everyone."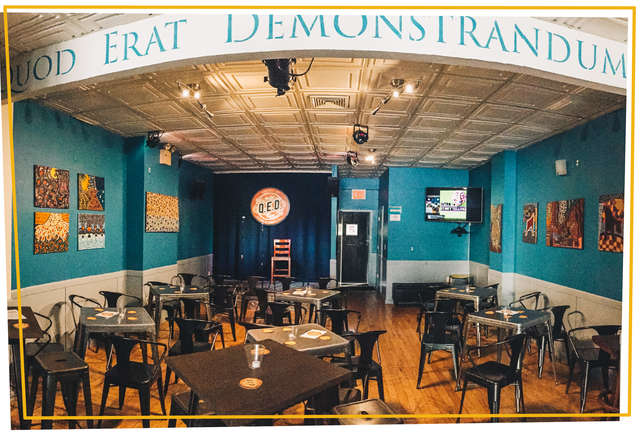 Astoria
Astoria-based comedian and Girl Code producer
Chelsea White
stands by her neighborhood's only comedy venue as a go-to for up-and-coming comedians and established old-timers. "Kambri Crews, Q.E.D.'s proprietor, is plugged into the comedy scene and super-passionate about fostering community," she says. "This is killer entertainment in a laid-back, neighborhood-y environment."